Under Secretary of the Navy Forrestal discusses phases of the fighting on Kwajalein with Major General Schmidt in February 1944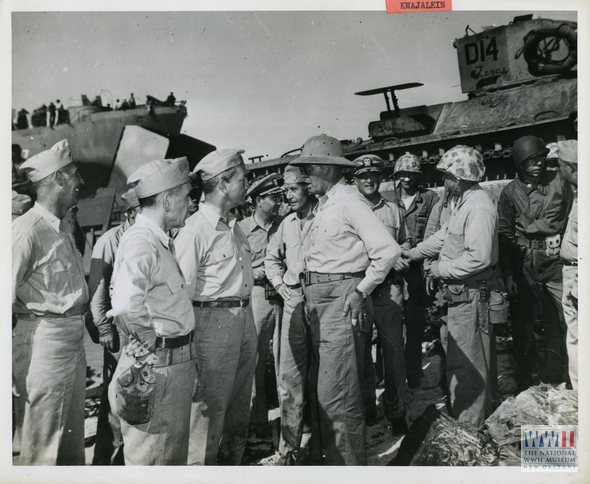 U.S. Navy Official photograph, Gift of Charles Ives, from the collection of The National World War II Museum
Description:
48. Photograph. High ranking officers gather to confer. "File No: MHQ-70,205 Released February 14, 1944 Under Secretary of Navy visits Marshalls - Under Secretary of the Navy James V. Forrestal (left center) discusses phases of the fighting on Namur Island, Kwajalein Atoll, with Major General Harry Schmidt, USMCR (hands on hips, sun glasses). To General Schmidt's right is Vice Admiral Raymond A. Spruance, USN, and Captain John Gingrich, USN. Directly behind General Schmidt is Vice Admiral Ben Morell, USN, Chief of the Bureau of Yards and Docks. To the left of the Under Secretary are Rear Admiral W. J. Carter, USN, Assistant Chief of the Bureau of Supplies and Accounts and Lieutenant Colonel Emery E. (Swede) Larson, USMC. In the background (right) is an amphibious tanks and (left) an LST (Landing Ship Tank). Major General Schmidt is describing what happened when Marines of the Fourth Division, which he commands, landed on Namur and Roi Islands." 14 February 1944
Image Information
Theater of Service:
Pacific Theater of Operations
Campaign / Event:
Marshall Islands (January - February 1944)
Topical Subjects:
Landing craft--American--Kwajalein
Military officers--American--Kwajalein
Soldiers--American--Kwajalein
Tanks (Military science)--American--Kwajalein
Collection Level:
The Charles Ives Collection consists of 719 photographs from the Pacific Theater of WWII. Many of the photographs were taken between 1944 and 1945. Mr. Ives inherited the photographs from a friend from Marblehead, Massachusetts who served as an aviator in the Army Air Corps and discharged as a Major in 1945.