Two tractors pulling scrapers at night in New Guinea in March 1944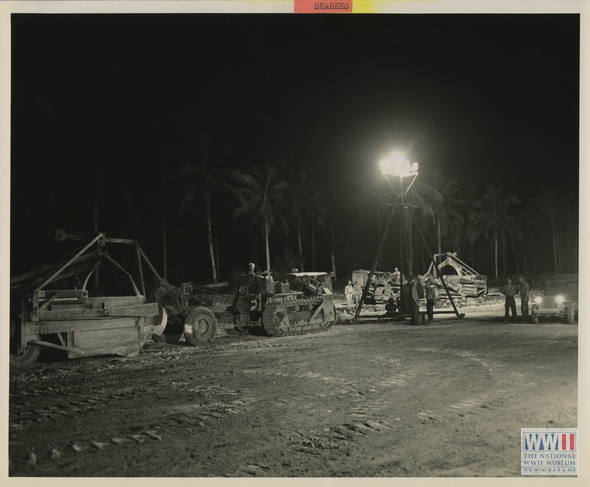 U.S. Navy Official photograph, Gift of Charles Ives, from the collection of The National World War II Museum
Description:
1. Photograph. Two tractors pulling scrapers at night; a light tower and a 1/4 ton truck (jeep) with palm trees in the background. "File Number: 46090 Released July 17, 1944. Army Honors Seabees 40th Battalion. Paying a signal tribute to a Navy organization, the U. S. War Department on behalf of the President on July 16, 1944, awarded the 40th battalion of the Seabees battle honors for outstanding performance of duty on Los Negros Island, where its members fought as they built and 'day shifts' or 'night shifts' for the Construction Battalion during the critical hours of the Los Negros campaign. Under lights they labored with their huge instruments, toting untold amounts of earth and coral from one place to another, smoothing out some sections, leveling off others in the task of building runways and other installations. U. S. ARMY AIR FORCES PHOTOGRAPH." Los Negros Island, Admirality Islands. 16 July 1944
Image Information
Theater of Service:
Pacific Theater of Operations
Unit:
40th Naval Construction Bn
Topical Subjects:
Bulldozers--New Guinea
Tractors--New Guinea
Night photographs--American--New Guinea
Collection Level:
The Charles Ives Collection consists of 719 photographs from the Pacific Theater of WWII. Many of the photographs were taken between 1944 and 1945. Mr. Ives inherited the photographs from a friend from Marblehead, Massachusetts who served as an aviator in the Army Air Corps and discharged as a Major in 1945.