Superfortresses soaring above a Seabee hard at maintenance work on the field below on Tinian in March 1945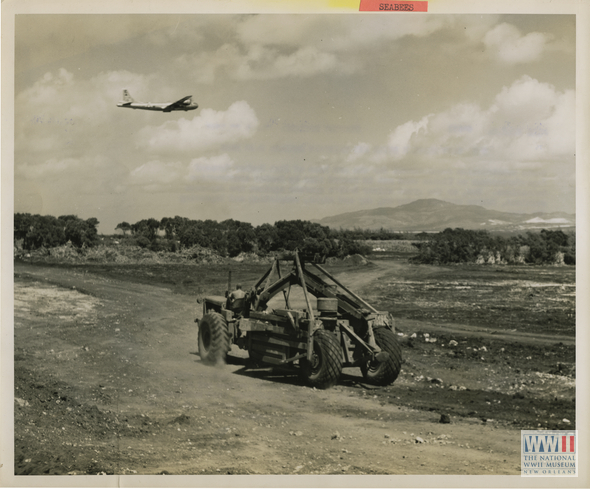 U.S. Navy Official photograph, Gift of Charles Ives, from the collection of The National World War II Museum
Description:
2. Photograph. A Tractor pulling a scraper to another location, a Boeing B-29 Superfortress is in the air, and a cleared area in the foreground is backed by a tree line and a mountain in the distance. "File Number 48681 Feature Release: March 30, 1945 U. S. Navy Seabees build and maintain Mariana B-29 base. Basic construction requirements for the new home of 21st Bomber Command Superfortresses on Tinian were met in record time by Seabee construction battalions. Now, as the great silver B-29's operate against the Japanese mainland, Seabee workers carry on, day and night, completing and improving the base. This photograph shows one of the Superfortresses soaring above a Seabee hard at maintenance work on the field below. In the center background is Saipan's Mount Topachau." 30 March 1945
Image Information
Theater of Service:
Pacific Theater of Operations
Unit:
21st Bomber Command
Seabees
Topical Subjects:
Airplanes--American--Tinian
Tractors--Tinian
Graders (Earthmoving machinery)
Air bases--American--Tinian
Bombers--American--Tinian
Soldiers--American--Tinian
Collection Level:
The Charles Ives Collection consists of 719 photographs from the Pacific Theater of WWII. Many of the photographs were taken between 1944 and 1945. Mr. Ives inherited the photographs from a friend from Marblehead, Massachusetts who served as an aviator in the Army Air Corps and discharged as a Major in 1945.