A Seabee in a road grader waves as a Boeing B-29 Superfortress prepares to land on Tinian in March 1945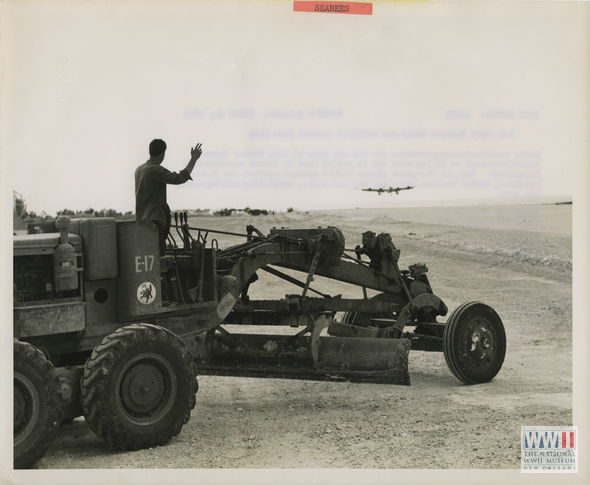 U.S. Navy Official photograph, Gift of Charles Ives, from the collection of The National World War II Museum
Description:
3. Photograph. A Seabee in a road grader waves as a Boeing B-29 Superfortress prepares to land. "File Number: 48683 Feature Release: March 30, 1945 U. S. Navy Seabees build and maintain Mariana B-29 base. Basic construction requirements for the new home of 21st Bomber Command Superfortresses on Tinian were met in record time by Seabee construction battalions. Now, as the great silver B-29's operate against the Japanese mainland, Seabee workers carry on, day and night, completing and improving the base. The steady flow of Superfortresses from the United States to the new field is a daily reminder of the great need for speed and more speed in completing the base. Standing on his power grader, Seabee Hette Capretti, Cleveland, Ohio waves to a new comer as the four engine mammoth settles toward the landing strip." 30 March 1945
Image Information
Theater of Service:
Pacific Theater of Operations
Unit:
21st Bomber Command
Seabees
NMCB-13
Topical Subjects:
Bombers--American--Tinian
Air bases--American--Tinian
Maintenance & repair--Tinian
Soldiers--American--Tinian
Graders (Earthmoving machinery)
Collection Level:
The Charles Ives Collection consists of 719 photographs from the Pacific Theater of WWII. Many of the photographs were taken between 1944 and 1945. Mr. Ives inherited the photographs from a friend from Marblehead, Massachusetts who served as an aviator in the Army Air Corps and discharged as a Major in 1945.