Sailors with priest during a funeral on the deck of an aircraft carrier in April 1944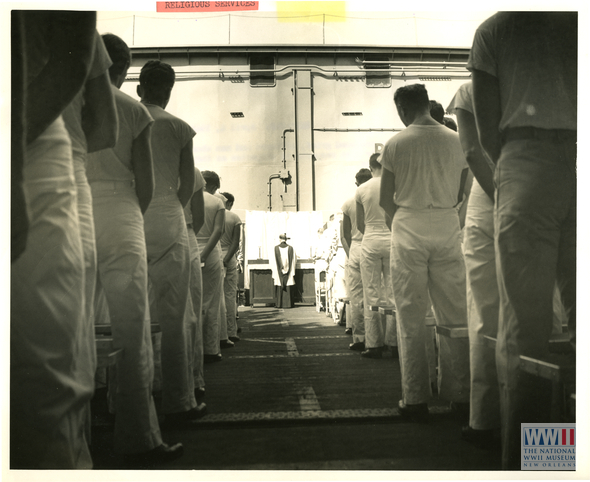 U.S. Navy Official photograph, Gift of Charles Ives, from the collection of The National World War II Museum
Description:
12. Photograph. Sailors standing in front of benches for Religious services with priest during a funeral on the deck of an aircraft carrier. "File No. 219187 Released: April 4, 1944 In memoriam—Motionless in their profound grief, officers and men aboard a U. S. Navy escort carrier pay their last respects to shipmates as they attend memorial services for war casualties." 4 April 1944
Image Information
Theater of Service:
Pacific Theater of Operations
Topical Subjects:
Priests
Religious articles
Religious services
Memorial rites & ceremonies
Sailors--American
Military officers--American
Grief
Aircraft carriers--American
Collection Level:
The Charles Ives Collection consists of 719 photographs from the Pacific Theater of WWII. Many of the photographs were taken between 1944 and 1945. Mr. Ives inherited the photographs from a friend from Marblehead, Massachusetts who served as an aviator in the Army Air Corps and discharged as a Major in 1945.