Rising sun insignia on the bridge of a carrier denote Japanese planes shot down by the aircraft flying from the flat-top, March 1945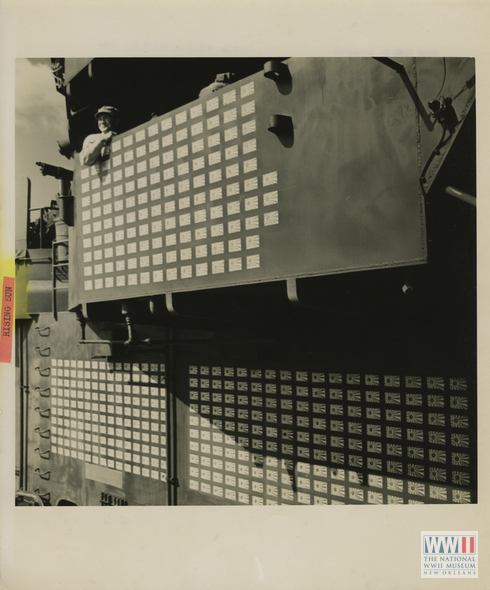 U.S. Navy Official photograph, Gift of Charles Ives, from the collection of The National World War II Museum
Description:
10. Photograph. Rising Sun flags painted on the island of an aircraft carrier. "File Number TR-12746 Feature release: March 20, 1945 Recorded Death – Rising sun insignia painted on the bridge of a Navy aircraft carrier denote the number of Jap [Japanese] planes shot down by the Navy aircraft flying from the flat-top. Rear Admiral Gerald Bogan, USN, peers out at the horizon over the top of the 'scoreboard'" 20 March 1945
Image Information
Theater of Service:
Pacific Theater of Operations
Topical Subjects:
Admirals--American
Aircraft carriers--American
Military decorations
Flags--Japanese
Collection Level:
The Charles Ives Collection consists of 719 photographs from the Pacific Theater of WWII. Many of the photographs were taken between 1944 and 1945. Mr. Ives inherited the photographs from a friend from Marblehead, Massachusetts who served as an aviator in the Army Air Corps and discharged as a Major in 1945.