Rising Sun flags painted on the island of an aircraft carrier in August 1944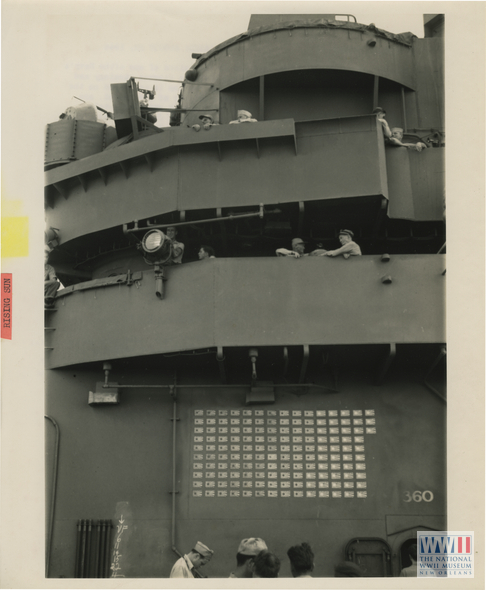 U.S. Navy Official photograph, Gift of Charles Ives, from the collection of The National World War II Museum
Description:
8. Photograph. Rising Sun flags painted on the island of an aircraft carrier. "File Number: 236852 Released: August 22, 1944. Two Boards. Strategy and score – Snapped on the island of one of the Navy's giant aircraft carriers, four top-ranking officers discuss strategy and tactics. . . while the partial results of past huddles is portrayed on the scoreboard below. Captain C. W. Litch, USN, skipper of the vessel, and Commander J. M. Lane, USN (left to right, top ) are in one tet-a-tete, Vice Admiral Marc A. Mitscher, USN, and Vice Admiral John S. McCain, USN are in the other, and below them the tiny Rising Sun insignia indicated that at the time the photograph was taken the ship's planes and guns had downed 143 Jap [Japanese] planes." 22 August 1944
Image Information
Theater of Service:
Pacific Theater of Operations
Topical Subjects:
Admirals--American
Military officers--American
Aircraft carriers--American
Sailors--American
Gun turrets--American
Signal lights--American
Flags--Japanese
Military decorations
Collection Level:
The Charles Ives Collection consists of 719 photographs from the Pacific Theater of WWII. Many of the photographs were taken between 1944 and 1945. Mr. Ives inherited the photographs from a friend from Marblehead, Massachusetts who served as an aviator in the Army Air Corps and discharged as a Major in 1945.