Mount Vesuvius erupting near Naples, Italy in April 1945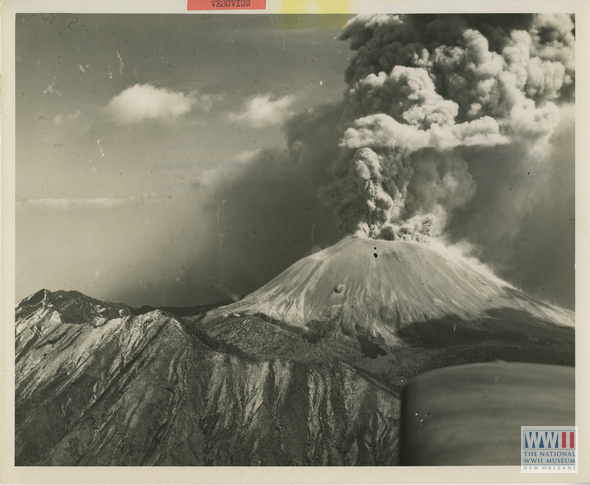 U.S. Navy Official photograph, Gift of Charles Ives, from the collection of The National World War II Museum
Description:
5. Photograph. Vesuvius erupting. "File No. 59373 Released: April 5, 1944. Plane flies over erupting volcanic dust and lava – A U.S. Navy photographer, used to shooting the perils of War, takes on one of Nature's upheavals as he catches a column of smoke rising above the treacherous volcano near Naples." 5 April 1944
Image Information
Theater of Service:
Mediterranean Theater of Operations
Topical Subjects:
Volcanoes--Italy
Volcanic eruptions--Italy
Mountains--Italy
Aerial views--Italy
Smoke--Italy
Collection Level:
The Charles Ives Collection consists of 719 photographs from the Pacific Theater of WWII. Many of the photographs were taken between 1944 and 1945. Mr. Ives inherited the photographs from a friend from Marblehead, Massachusetts who served as an aviator in the Army Air Corps and discharged as a Major in 1945.