Mount Vesuvius erupting with city of Naples, Italy in the foreground in April 1944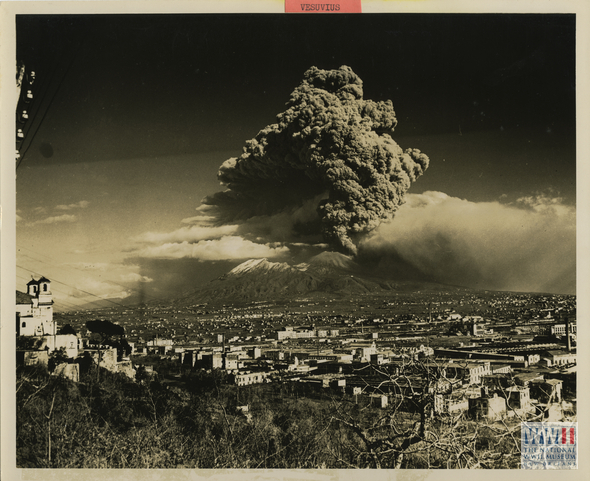 U.S. Navy Official photograph, Gift of Charles Ives, from the collection of The National World War II Museum
Description:
7. Photograph. Vesuvius erupting with city in the foreground. "File No. 54410 Released: Monday, April 3, 1944. "Vesuvius erupts ! In its worst eruption in 72 years, brooding Mt. Vesuvius joins its efforts to the ravages of war as it again belched death and destruction on the towns and hamlets which crouch against its crusty flanks. These official U. S. Navy photographs indicate the extent of the havoc wreaked by the fiery lava spewed out from the volcano. Tossed heaven-ward by a primeval geyser, a giant canopy of smoke dominates the war-ravaged countryside for miles. Another view of the awesome pall that veiled the horizon of Naples. Shrouded in its own smoke, ancient Vesuvius slowly calmed its wrath, subsided until the next cosmic impetus stirs its testy might." 3 April 1944
Image Information
Theater of Service:
Mediterranean Theater of Operations
Topical Subjects:
Volcanic eruptions--Italy
Volcanoes--Italy
Mountains--Italy
Cityscapes--Italy
Collection Level:
The Charles Ives Collection consists of 719 photographs from the Pacific Theater of WWII. Many of the photographs were taken between 1944 and 1945. Mr. Ives inherited the photographs from a friend from Marblehead, Massachusetts who served as an aviator in the Army Air Corps and discharged as a Major in 1945.