Group of sailors aboard a submarine listening to a chaplain read from a prayer book in March 1944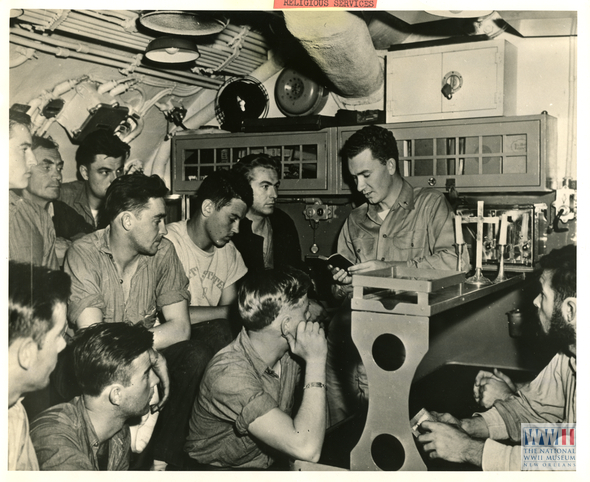 U.S. Navy Official photograph, Gift of Charles Ives, from the collection of The National World War II Museum
Description:
11. Photograph. Group of sailors listening to a chaplain read from a prayer book. "File No. 45101 Released March 28, 1944 Services under the sea – Beside a simple cross placed on a mess counter, Chaplain W. S. Brown, of Toledo, O.[Ohio], holds a church service in the confines of a U.S. submarine far out at and under the sea on war patrol. It was believed to be the first service of its kind, as the undersea fighters do not usually carry chaplains. Chaplain Brown, formerly of Toledo's St. Paul's Episcopal Church, was a passenger aboard the submarine on his way to a new station somewhere in the Pacific." 28 March 1944
Image Information
Theater of Service:
Pacific Theater of Operations
Topical Subjects:
Submarines--American
Chaplains
Religious articles
Religious services
Sailors--American
Collection Level:
The Charles Ives Collection consists of 719 photographs from the Pacific Theater of WWII. Many of the photographs were taken between 1944 and 1945. Mr. Ives inherited the photographs from a friend from Marblehead, Massachusetts who served as an aviator in the Army Air Corps and discharged as a Major in 1945.