Commander David McCampbell, ace five times on 29 October 1944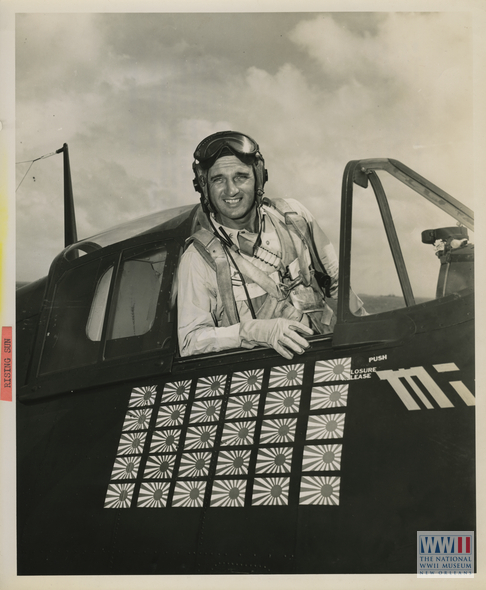 U.S. Navy Official photograph, Gift of Charles Ives, from the collection of The National World War II Museum
Description:
9. Photograph. Commander McCampbell, ace five times. "File Number 258198 Feature Release: December 12, 1944 Navy marksman sets U. S. record for planes shot down in single duty tour Commander David McCampbell, USN, of Los Angeles, Calif.[California], is snapped in the cockpit of his Grumman Hellcat aboard his Essex-class carrier on October 29, 1944. Miniature 'Rising Sun' insignia on his cockpit show that he had shot down 30 Jap [Japanese] planes on that date. He shot down four more for a total of 34 before returning to the U. S. for leave and reassignment -- thus setting a record for the highest total of enemy planes shot down by any U. S. pilot in a single tour of duty." 12 December 1944
Image Information
Theater of Service:
Pacific Theater of Operations
Topical Subjects:
Fighter pilots--American
Aircraft carriers--American
Airplanes--American
Military officers--American
Airplane cockpits
Flags--Japanese
Goggles
Military decorations
Collection Level:
The Charles Ives Collection consists of 719 photographs from the Pacific Theater of WWII. Many of the photographs were taken between 1944 and 1945. Mr. Ives inherited the photographs from a friend from Marblehead, Massachusetts who served as an aviator in the Army Air Corps and discharged as a Major in 1945.