Clouds of smoke stream from U. S. Navy warships as they pound Kwajalein on 1 February 1944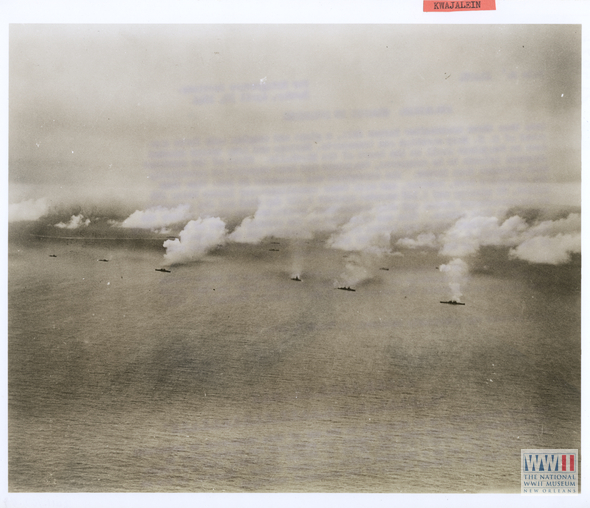 U.S. Navy Official photograph, Gift of Charles Ives, from the collection of The National World War II Museum
Description:
44. Photograph. US ships pounding Kwajalein " File No: 214691 For Rotogravure Sections: Sunday, April 30, 1944 Kwajalein Classic in invasion. Less then three months after Tarawa fell, a giant and complex task force composed of U. S. Navy warships and transports, Marines and Army troops smashed down on Kwajalein atoll in the heart of the Marshalls. First of the mandated Japanese islands to be conquered, Kwajalein had been regarded as potentially much stronger than Tarawa. The stronghold was conquered in less time than the Gilbert's base, however, and with fewer casualties –our losses being 286 killed, 82 missing and 1,148 wounded against 8,122 Jap [Japanese] dead and 264 prisoners. An unprecedented aerial and ship bombardment devastated the island before the troops set foot ashore. This was augmented in the opening stages of the landing by field artillery which was landed on atolls flanking the main objective. These official U. S. Navy photographs tell better than words the epic story of the capture of Kwajalein, January 31- February 4, 1944. (5) 'Backstage' of the bombardment—Long sweeping clouds of smoke stream out from U. S. Navy warships on a 'bombardment assembly line' as they pound enemy shores on Kwajalein the second day of the invasion, February 1, 1944." 1 February 1944
Image Information
Theater of Service:
Pacific Theater of Operations
Campaign / Event:
Marshall Islands (January - February 1944)
Topical Subjects:
Aerial views
Islands--Kwajalein
War damage--Kwajalein
Battleships--American--Kwajalein
Smoke--Kwajalein
Collection Level:
The Charles Ives Collection consists of 719 photographs from the Pacific Theater of WWII. Many of the photographs were taken between 1944 and 1945. Mr. Ives inherited the photographs from a friend from Marblehead, Massachusetts who served as an aviator in the Army Air Corps and discharged as a Major in 1945.