Aerial view of bomb craters on Kwajalein and Japanese firing at advancing U. S. tanks on 2 February 1944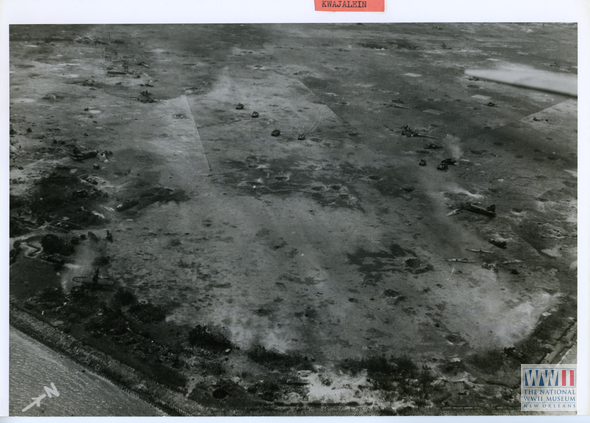 U.S. Navy Official photograph, Gift of Charles Ives, from the collection of The National World War II Museum
Description:
46. Photograph. Aerial view of bomb craters on Kwajalein. "File No. 8795c Released: April 5, 1944 Last stand on Kwajalein—Taken by U. S. Navy planes which swooped in low over the battleground, this aerial photo depicts the last stand of the Japs [Japanese] on battered Kwajalein in the Marshalls on February 2, 1944. In the foreground of the picture, the entrenched foe fires vainly at U. S. tanks advancing from the background. Sprawled on the flat atoll at the right are the shattered outlines of destroyed Jap planes." 2 February 1944
Image Information
Theater of Service:
Pacific Theater of Operations
Campaign / Event:
Marshall Islands (January - February 1944)
Topical Subjects:
War damage--Kwajalein
Aerial views
Aerial bombings--Kwajalein
Airplanes--Japanese--Kwajalein
Air bases--Japanese--Kwajalein
Collection Level:
The Charles Ives Collection consists of 719 photographs from the Pacific Theater of WWII. Many of the photographs were taken between 1944 and 1945. Mr. Ives inherited the photographs from a friend from Marblehead, Massachusetts who served as an aviator in the Army Air Corps and discharged as a Major in 1945.