3rd Marine Division tribute sign to the Seabees in Bougainville, Papua New Guinea in January 1945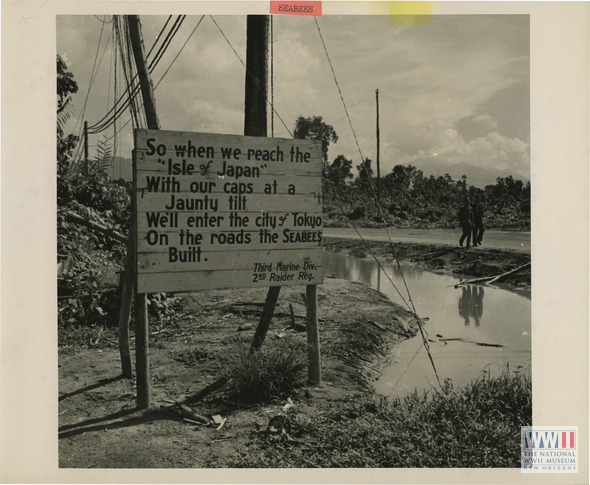 U.S. Navy Official photograph, Gift of Charles Ives, from the collection of The National World War II Museum
Description:
4. Photograph. Sign put up by 3rd Marine Division, 2nd Raider Regiment. "File No: TR-9648 Released: January 23, 1945. Tribute from the Marines – Testament of the Marine Corps admiration for the Navy's Construction Battalions is this sign by the road near Torokina fighter strip, Bougainville." 23 January 1945
Image Information
Theater of Service:
Pacific Theater of Operations
Campaign / Event:
Bougainville (November 1943 - August 1945)
Topical Subjects:
Posting signs & notices--Bougainville
Engineering--Bougainville
Collection Level:
The Charles Ives Collection consists of 719 photographs from the Pacific Theater of WWII. Many of the photographs were taken between 1944 and 1945. Mr. Ives inherited the photographs from a friend from Marblehead, Massachusetts who served as an aviator in the Army Air Corps and discharged as a Major in 1945.